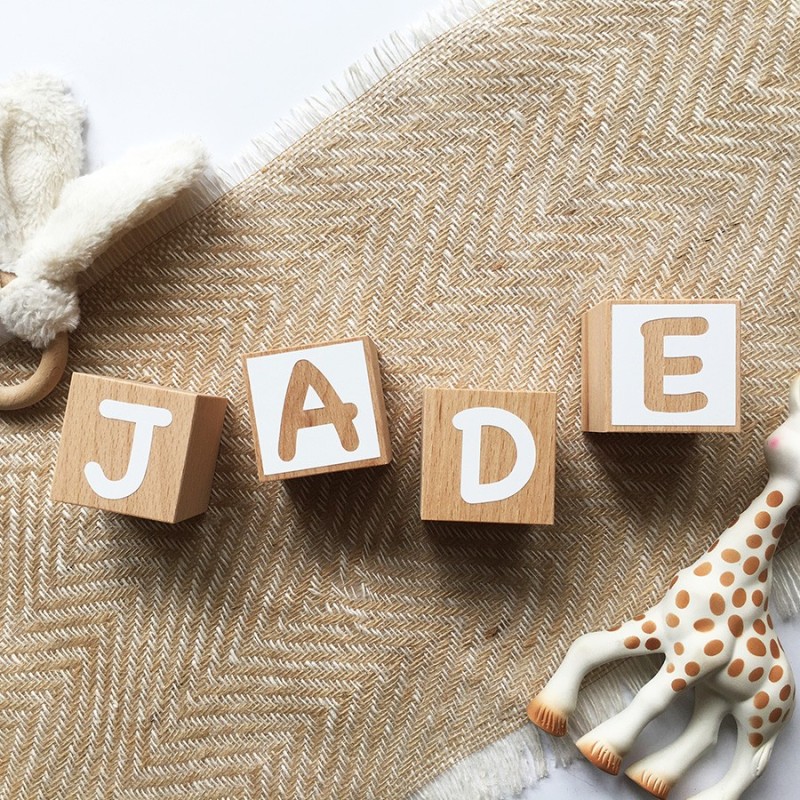  
Customizable wooden letter cube
Birthday gift, baby shower, birthday, baptism, prenatal feast : discover our pretty customizable wooden cubes with the letters and grounds of your choice.Also possible to add weight and size to birth on cubes!

Des cubes letters in natural beech wood which will make an original decoration for a baby or child room.To customize with first, a cute nickname or a text of your choice.
Watch out, the letters are sold individually!

Dimensions of cubes: 5 x 5 cm
Product customisation
Don't forget to save your customization to be able to add to cart
SECURE PAYMENTS
Your encrypted bank details
SHIPPING WITHIN 72H
Via Mondial Relay, Colissimo, Chronopost...
ADVICE AND FOLLOW-UP
We are listening to you
MADE IN FRANCE
Products designed and manufactured in France
A personalized birth gift to welcome baby!
Classic, modern, retro...
Whether it's common or more original...
Whether it's kept secret or quickly unveiled...
We always like to discover or make known first name of the infant coming to the world.Because the first name is one of the first choices of parents for the child, because behind each first name there is a story (sometimes even a legacy), a search (more or less obvious) and especially behind that first name, there is a unique being...We offer you these literate cubes in raw beech wood.

Each cube is made by hand and is therefore unique. Our cubes are made in our own workshop, without intermediary, with untreated solid beech wood of very good quality.
Name and letter: to decorate and play
To compose as you wish to form according to the desires the name chosen or the given nickname. A nice and fun gift idea who will certainly please the parents!In a first time, pretty original and personalized birth gift, these cubes may decorate the baby room then they will take a whole other use when baby grows up and leaves to discover his name.Under this cubes format, the very young child will be better able to assimilate the spelling of his first name and place the letters in the right order to reconstitute it: a real children's game!
These are cubes name with personalized letters will thus be "decorative object", on a shelf for example, and "free learning game".A simple, evolutionary product in the air of time and always 100% french !

A product that will ideally complement our birth chest Camille :-)
What colors and symbols are available?
Colours: gold, silver, black and white
Symbols: heart, star, flash and hashtag (#)
How do I order your first name cubes?Is it possible to make a special request?
The cubes being sold individually, you only have to select the letters and motifs of your choice to add them in your cart and create the desired word or first name.

For everything particular request (pictogram, special characters, etc...) don't hesitate to contact us, we will be pleased to offer you a solution that meets your expectations.
Fast shipping, neat packaging and to offer, think about the gift paper option available in your cart!
Data sheet
Type of wood

Beech

Other subjects

Vinyl

Dimensions

Each cube measures 5 x 5 cm

Weight

Average weight of a cube: between 85 and 90 grams

Made in France

Yes

Warning

To be used under the supervision of an adult. Not recommended for children 0 to 3 years old.

Standards

THIS
Cœur

Super
Étoile

Super
E

Super
O

Super
N

Super
.

.
.

.
.

.
.

.
.

.
.

.
Livraison decevante
Payer 15€ pour une livraison express en 24-48h, pour finalement attendre 1 semaine !! Je n\'ai pas pu utiliser les cubes pour mon shooting photo grossesse, comme prévu. Je suis très déçu. \r\nLa qualité du bois est bien, mais les lettres déçu sont en plastique, et non en peinture comme la photo le laisse suggérer.
Answer:
Bonjour,
Je suis sincèrement désolé d'apprendre que la livraison ne vous a pas apporté satisfaction mais ravi de lire que le produit vous plait. Toutefois, il est important de noter que, comme indiqué sur le site, nous expédions les commandes sous 48 à 72h, ce qui a bien été fait. Le délai de livraison (Colissimo dans votre cas, soit environ 48h) a bien été respecté également et s'ajoute logiquement au délai de préparation. Vous avez donc reçu votre commande 4 jours ouvrés après l'achat, ce qui est tout à fait normal. Concernant les cubes lettres, nous utilisons en effet un vinyle autocollant de très bonne qualité, tout ceci est bien indiqué sur la fiche produit :-)
Bien cordialement,
Robin pour Fraise et Bois
étoile

satisfaite
E

satisfaite
S

satisfaite
I

satisfaite
O

satisfaite
L

satisfaite
E

satisfaite
Très bon produit

Très bonne qualité
Très bon produit

Très bonne qualité
Très bon produit

Très bonne qualité
Très bon produit

Très bonne qualité
Très bon produit

Très bon produit
Très bon produit

Très bonne qualité
Très beau

Top

- Site fiable\r\n- Commande reçue rapidement \r\n- Cube identique au photo \r\nRien a redire. Parfait
Cube
Déçu par les lettres je pensais qu'elles ne seraient pas autocollantes mais par exemple gravé dans le bois cecsereit un produit de qualité car finalement avec des lettres autocollantes le prix est élevé \r\nCordialement
Answer:
Merci pour votre commande et votre retour. Nous sommes désolés que le produit ne corresponde pas tout à fait à vos attentes. Nous utilisons en effet du vinyle de très bonne qualité sur nos cubes. En atteste les 33 avis positifs sur Etsy par exemple : https://www.etsy.com/fr/listing/1022775265/cubes-prenom-cadeau-naissance-cube
Cordialement
Robin pour Fraise et Bois
You might also like